Meet


Our Guides Seriously good guides will make your trip all it can be. Our guides have years of experience guiding and experience matters when you are planning a trip in a short window of time. Everyone can have good days, but our experienced guides know how to get fish even when the fishing gets challenging. We are group of dedicated fisherman who will do what it takes to make your fishing adventure all that it can be.

Dan Dowell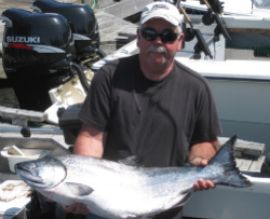 Dan is the only one left of the original guides in Ucluelet and loves catching large salmon. This passion doesn't affect his halibut fishing–he can do both well—but he's passionate about seeing large Chinook salmon come to the dock. Dan has more patience than most and will wait out in a spot when everyone else has given up. His experience is often rewarded and he has a reputation for catching fewer total salmon so that he can get the big one. He is one of the best at fishing large spoons or whole herring while the Chinook (Kings) are running during July and August.
We all admire Dan's ability to figure out where the bigger Chinook (Kings) are hiding. He guided a third place finish in one of two salmon derbies during 2009, the largest salmon in the Ucluelet Salmon Ladder Derby 2010, and the winner of the Ucluelet Ladder Salmon Derby final fish-off in 2011. Ucluelet hasn't had any derbies for a few years, but if there was Dan would be at the top.
Keith Nakagawa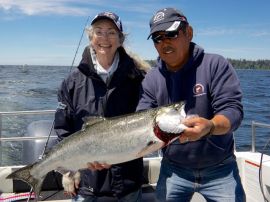 Keith was born and raised in Ucluelet, and has been fishing our beautiful local waters his entire life. Growing up, Keith's father had him working on board their family commercial fishing boat named after his grandmother. His wealth of knowledge, experience and positive attitude are what make him a great charter captain. He is an avid fisher and knows how to reel them in. Previous to being hired by Salmon Eye Keith spent with 32 years as captain of a 50' Canadian Princess party boat and the last couple years running a couple of sport boats as they changed their program. He not only has a wealth of knowledge about the area, but he also know how to give you a great time!
Whether you are new to sport fishing or a grizzled veteran, he will assure you have a memorable time on the West Coast and go home with your own fishing tales to share. On his downtime, you can find Keith on the golf course for a round of 9, 18 or maybe 27 holes if the weather permits.
James Costello

With over 20 years experience navigating the waters of the Westcoast, James is spending his 3rd season this summer guiding from Ucluelet.

When he was fresh out of high-school, James honed his saltwater fishing, customer service, and fish processing skills working in places like Hakai Pass, River's Inlet, and Haida Gwaii.

An experienced outdoor enthusiast, family man, and life-long fisherman, James has been involved in salmon conservation with the Ucluelet hatchery as well as other projects on the west coast. James is passionate about all things fish related and feels most at home on the water chasing salmon, halibut and lingcod. He has become proficient in making sure his guests are on the bite at the right time, sometimes in spots overlooked by others.
Scott Nijman
Scott Nijman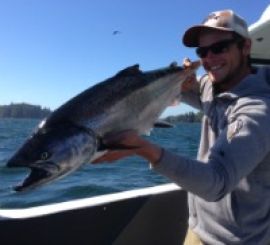 Scott never had a chance. He was on the back deck of a sport fishing boat as soon as he could walk. Introduced to the waters surrounding Vancouver Island by his Grandfather, fishing was a family affair.
Scott started his working life on the water aboard a commercial crab vessel before making the transition into sport fishing. Spending the first four years guiding in the Haida Gwaii before slowly working his way down the Coast to Ucluelet, he can attest that the waters surrounding the Pacific Rim offer some of the most productive salmon and halibut fishing anywhere.
Although the fishing is paramount, Scott never forgets the importance of crafting a complete experience. Whenever the opportunity arises, expect an education on local wildlife and coastal history. He understands the importance of customizing every charter to his guest's individual needs and will do everything possible to produce lasting memories of your time spent on the water.
Sam Vandervalk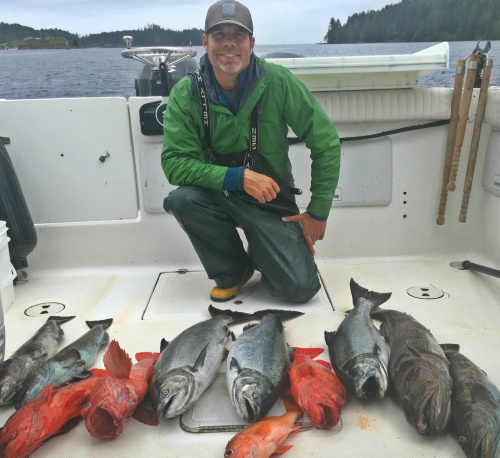 Sam is the owner of Salmon Eye Charters and is thrilled to have such great guides working with him. Having a skilled team creates the perfect environment to ensure every boat produces fish and, at the same time, leaves clients happy. Sam is one of the primary contacts for Salmon Eye Charters, so chances are you will talk to him when booking your trip. He doesn't guide much anymore but you may see him around the office.
You may have seen Sam on the Outdoor Channel or heard him on the radio talking about salmon fishing in British Columbia. With experienced guides, safe and comfortable boats, the best accommodation for your money, and a quality vacuum-packed product to take home with you, Sam is committed to keeping Salmon Eye Charters as one of the top sport fishing tour companies out there.